Will not start
08-01-2018, 11:24 PM
Senior Member
Join Date: Feb 2014
Location: Worcester, Ma.
Posts: 2,709
---
Have you tried AutoZone? The sign up is free, and gives you access to "some" wiring diagrams, not all...might be worth checking out.....

As I said before the engine control fuse(15A) feeds the ICM, and that fuse gets power from the ignition relay, which get'* it'* power from the Ignition fuse(50A), one leg directly from the 50A fuse and the other leg from the 50A fuse via the ignition switch......I would be checking the ignition relay circuit, when you lose power to the ICM....

Simplest thing to do is swap out the ignition relay with another one in the fuse block, to see if the relay is the problem....
---
Last edited by Tech II; 08-01-2018 at

11:25 PM

.
08-02-2018, 09:00 AM
Senior Member
Join Date: Feb 2014
Location: Worcester, Ma.
Posts: 2,709
---
As you can see from the wiring diagram, if you lose power to the eng ctrl fuse
AND
the two injector fuses, then it looks like a problem with the relay circuit...either it'* the relay, the relay is not being grounded, or you have a problem with the ignition switch(check for power at the PCM IGN fuse when the problem occurs).....
Since this whole thing is encompassed in the fuse block, when you have no power, take the palm of your hand, and give the fuse block a few light hits....if you then have power, the most likely scenario is a connection......one thing you can try, with the fuse block cover off, you will see three silver colored bolts(usually torx).....if they become loose, this causes contact problems....check to make sure they are all tight....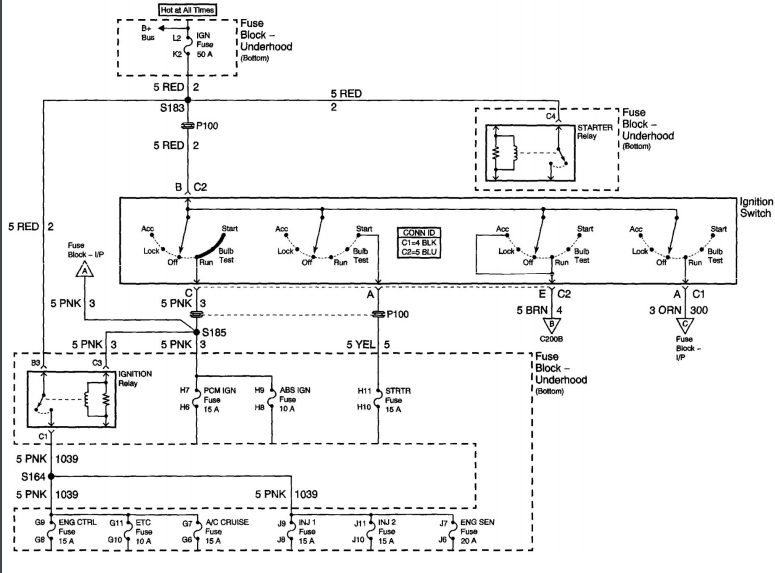 08-03-2018, 08:49 PM
Senior Member
Posts like a 4 Banger
Join Date: Jun 2007
Location: JACKSON, OH
Posts: 115
Thanks: 0
---
BCM, ignition switch, lock cylinder have been replaced and battery is charged. Still crank no start. Had 12V at terminal P on ignition module and also at connection under dash (from switch) then no voltAge. The security light isn't staying on. It has started a couple of times but 9/10 it won't start.
Thread
Thread Starter
Forum
Replies
Last Post
Introductions for new members