A Bad TPS sensor or something else (Throttle position sensor)
06-19-2012, 06:22 AM
Senior Member
Posts like a Turbo
---
I was able to rework something and later on today when I go pay my insurance I am gonna swing by Auto Zone and pick one up and get installed.
06-20-2012, 06:53 AM
Senior Member
Posts like a Turbo
---
Well I got the new one installed and wow I have had not one problem with the car since I put it on. No hesitation or stalling out like it was doing. It also gave the car a little more pickup so from what I can tell my just driving it my problems I was having has seem to go away. Thanks yall for all the helpful advice yall offered.
06-20-2012, 11:38 PM
Senior Member
True Car Nut
Join Date: Jun 2011
Location: VA
Posts: 3,083
---
Great news, hope it keeps running great!
03-27-2017, 05:24 PM
Junior Member
Join Date: Mar 2017
Posts: 3
Likes: 0
Received 0 Likes on 0 Posts
Need help
---
I have a buick lasabre 1999 , and I'm having a jerking problem , erytime I try to accelerate by trying to get on the interstate or when my car goes into over drive switches gears and gets up to about 60mph my car jerk on me I have to let off the gas and ease back on it to gain speed can anyone help me with this problem asap?
03-27-2017, 09:30 PM
Senior Member
Join Date: Feb 2014
Location: Worcester, Ma.
Posts: 2,878
---
Dev you jumped on a post with a different car, engine, and symptom......should have started your own....
One question I have, is it jerking(transmission) or does it feel like a misfire(engine)?
If you were to go on the highway, and cruise at 55mph, approach a slight grade, and then lightly accelerate(so it doesn't drop down to 3rd), and you feel a misfire, then the first thing I would do is pull the wires off one at a time from the coil terminals, and look for arcing(black)/corrosion(brownish) on the terminal and inside the contact of the ignition wire......the terminal can be sanded clean, and try to clean the contact of the ignition, and pinch it for a tighter fit.....apply dielectric grease, and road test.....otherwise you may have to replace the coil and wires(I would replace the plugs also if not recently replaced).....
if you don't see anything, then I would get a spark tester, to check coil output at each terminal......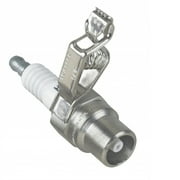 if output is ok, then replace plugs and wires....do you have any idea how long the plugs/wires have been on the engine? Are the plugs OEM?
Thread
Thread Starter
Forum
Replies
Last Post
Trouble shooting + Test Procedures
Trouble shooting + Test Procedures