Wow! Thank'* again, Don
I got a call from the yard today (!) The guy says: "can you ship that trans back to us?" I said sure. He said OK and hung up. I called the trucking company - they said they would contact the yard for prepayment. This could be a long wait.
While photographing the trans to document the mismatch, I uncovered in the lower right corner of the trans another stamp. This little flat is on the bottom right corner of the casting. This is the stamp that I should have seen at the outset of my search - it was covered completely with gray paint. It is directly underneath the spot where the ID tag should be. You will note on this trans, the gray paint the yard sprayed on proves the tag wasn't on when it left the yard.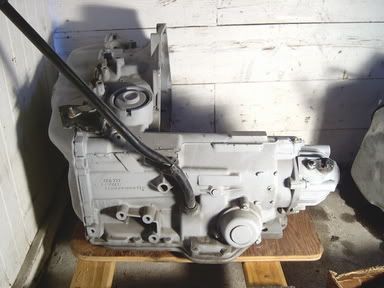 and looking closer:
this little 1R9130201 tells us with a little help from Chiltons and Google: 1=Chevrolet, R= 1994, 9= Oshawa plant, 130201, sequence number of the Chevy this trans was installed in at the assembly plant. Our suspicions are confirmed - this trans is from a '94 Chevy!
So, with a lot of help from mkaake, and jr's3800, I can now effectively argue to an arbitrator (and I will probably have to) that this trans was never in a Bonneville, was never behind a 3800, and does not [edit] likely have 3.06 gears. This trans is 0 for 3. Out of curiosity, I checked this stamping location on the old trans, and found 2S4 288XXX, = 95 Pontiac and a perfect match for the vin sequence number on the car. It is the original trans.
I want to thank all who helped again. You guys are the best. And I learned a bunch!