I was messing around with the Automatic Climate Control diagnostics earlier, and I figured I would try a few things.
The first thing I tried was comparing the temperature gauge to the digital temperature gauge on the ACC. Here are the results: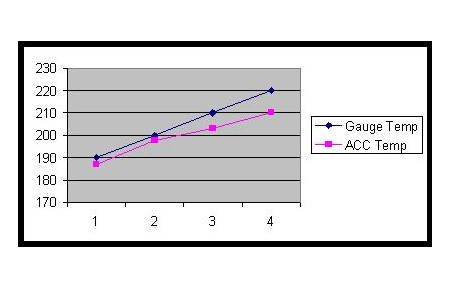 On my car, the gauge becomes less and less accurate the higher the temperature. When it says 220 degrees, it is actually only at 210 degrees. I have long suspected this. Note that the low speed fans will not turn on until 212 degrees, which appears to be above 220 if you're looking at my gauge.
The high speed fans will come on at 226 degrees (on the ACC).
I also checked the voltages. With the A/C and lights on, the voltage was around 12.2 at idle. When I reved the engine up to 1500, the voltage rose to 12.8-12.9 and levelled off. If I let the car idle again, and turned on the rear defrost as well, the voltage dropped to 11.7. This is with a 5-year old battery and a fairly new AC Delco alternator.