My car ('91 SSE)
08-11-2003, 04:33 PM
Senior Member
True Car Nut
Join Date: Jul 2003
Location: Toronto, Ontario, Canada
Posts: 5,158
Thanks: 0
Thanked 0 Times in 0 Posts
My car ('91 SSE)
---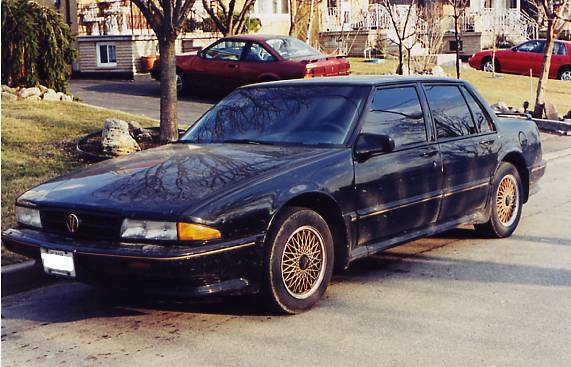 I hadn'tposted it since I joined, so here
These pics are a bit old, but the car hasn't changed since... except for the engine bay, there'* a STB there now, and you can see the non-original master cylinder (previous owner replaced it) that doesn't get interfered with when the STB is installed... the cap is just behind the bar
08-11-2003, 05:05 PM
Senior Member
True Car Nut
Join Date: Jul 2003
Location: Toronto, Ontario, Canada
Posts: 5,158
Thanks: 0
Thanked 0 Times in 0 Posts
---
08-12-2003, 03:16 PM
Senior Member
True Car Nut
Join Date: Jul 2003
Location: Toronto, Ontario, Canada
Posts: 5,158
Thanks: 0
Thanked 0 Times in 0 Posts
---
Thanks for the praise, guys, but the car is far from perfect :(
It'* sat in storage for a year so far while my dad'* driving the old '85 Toyota Cressida until it dies... the body is old and rusty, but the motor is running like a champ and refuses to die. It was replaced a year ago by a '98 Altima... but the Toyota refuses to pass on... so the Bonny sits. The STB hasn't even been put to use yet
Current Problems/Imperfections:
• Power seats barely work. Driver'* seat only goes front back and that'* it, and the passenger seat has been ghetto-rigged with a switch on the side of the centre console beside your (left, duh) knee. Moves only fore/aft.
• It'* recently been leaking a teeny bit of fuel while it'* been in the garage. Nothing major.
• General electrical gremlins. Grounds, relays, sensors, etc...
• The paint is not perfect (not original either). Just under the right taillight where there'* a seam where the quarter panel meets the plastic or whatever piece under the taillight... the paint'* bubbling and has broken through slightly. The rear fender flare has some bubbling to it as well.
• When we bought the car, it was missing a grille. So we got one from the scrapyard... however, some damage to the hood that was fixed was still visible... a crack running from left to right along the front lip area of the hood has some bubbles around it.
It'* not a bad, considering we got the thing for $2000. It'* probably worth slightly more, as problems have been fixed
edit: oh, and you can see the crack running down the taillight... moisture got in during the winter, and froze over... leaving... that.
08-26-2003, 06:53 PM
Executed
Join Date: Dec 2002
Location: Purgatory
Posts: 0
Thanks: 0
Thanked 0 Times in 0 Posts
---
i just thought i would mention to you, that is what the origninal ABS master cylinder looks like. 91 was the only year in the 87-91 to use that system... you dont have the Teeves IV system which is found on the 87-90. or its something like that, LOL!
Devon
BTW I have exactly like yours, only mines a 90!