2000 SLE Radio Install Question
04-11-2008, 05:03 PM
Senior Member
Posts like a 4 Banger
Join Date: Feb 2008
Location: indiana
Posts: 110
Thanks: 0
Thanked 0 Times in 0 Posts
2000 SLE Radio Install Question
---
04-11-2008, 09:50 PM
Senior Member
Posts like a 4 Banger
Join Date: Apr 2007
Location: Bountiful, UT
Posts: 127
Thanks: 0
Thanked 0 Times in 0 Posts
---
ok Item #1 will allow you to hook a new deck up. However, it will kill your warning chimes as they will no longer play through the driver'ss speaker

Item #2 may work, others might know for sure

Item #3 is probably the adapter you want. It appears to be the kit that will retain your warning chimes and your databus signal. There are other brands like PAC and there is the GMAC-09 adapter but many appear to have had problems with it. I am no expert on this but search a little more there are so many topics.
04-11-2008, 10:19 PM
Senior Member
Posts like a Northstar
Join Date: Feb 2004
Location: Fargo, ND
Posts: 685
Thanks: 0
Thanked 0 Times in 0 Posts
---
I used the GMOS-09 to keep my chimes and the SWI-JACK to keep my steering wheel controls. It all worked right away once I got it hooked up. Here'* what it looks like all attached ready to go in. I went double DIN so that'll be a different situation than you are in. Good luck getting everything to fit though. I had to dremel the hell out of the inner dash to get wires and the module to fit. I ended up going through the heater vents to the right of the radio to get it all to fit. I don't have pics of all the areas I had to cut and I'm not gonna tear it apart until I have to...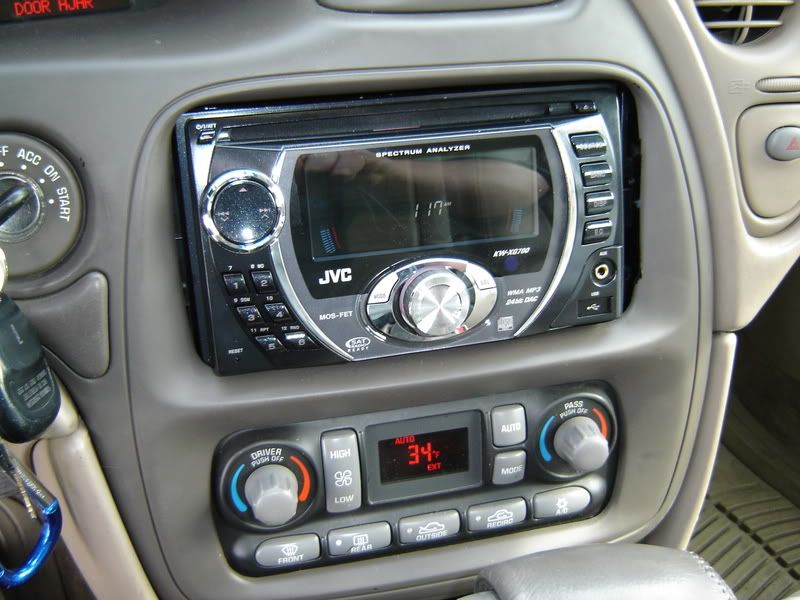 04-11-2008, 10:33 PM
Senior Member
Posts like a 4 Banger
Join Date: Feb 2008
Location: indiana
Posts: 110
Thanks: 0
Thanked 0 Times in 0 Posts
---
im not real concerned with chimes or steering wheel controls for now
i can do the steering controls later on if need be

so, the kits i showed will do what ineed then?
Thread
Thread Starter
Forum
Replies
Last Post
Audio (and aftermarket electronics)
Audio (and aftermarket electronics)
Audio (and aftermarket electronics)